Description
We believe you deserve the very best. With a keen eye for detail and a commitment to consistently deliver the best, highest quality products, you can rest assured Luxy guarantees true luxury.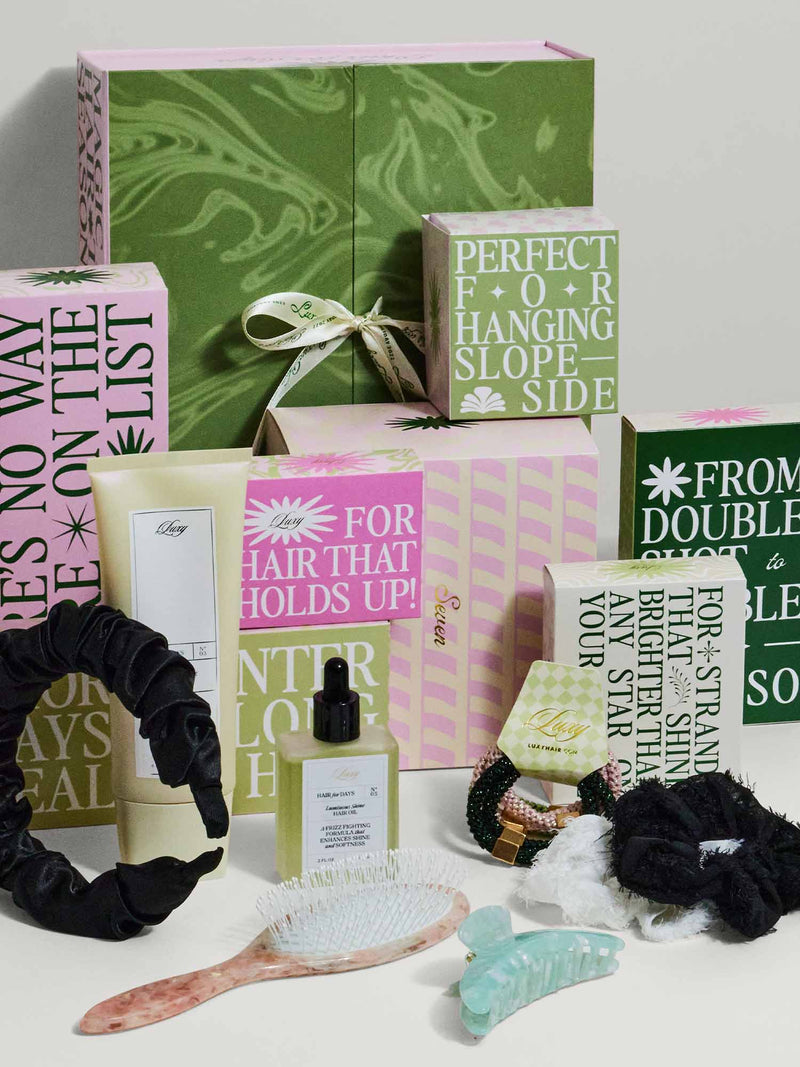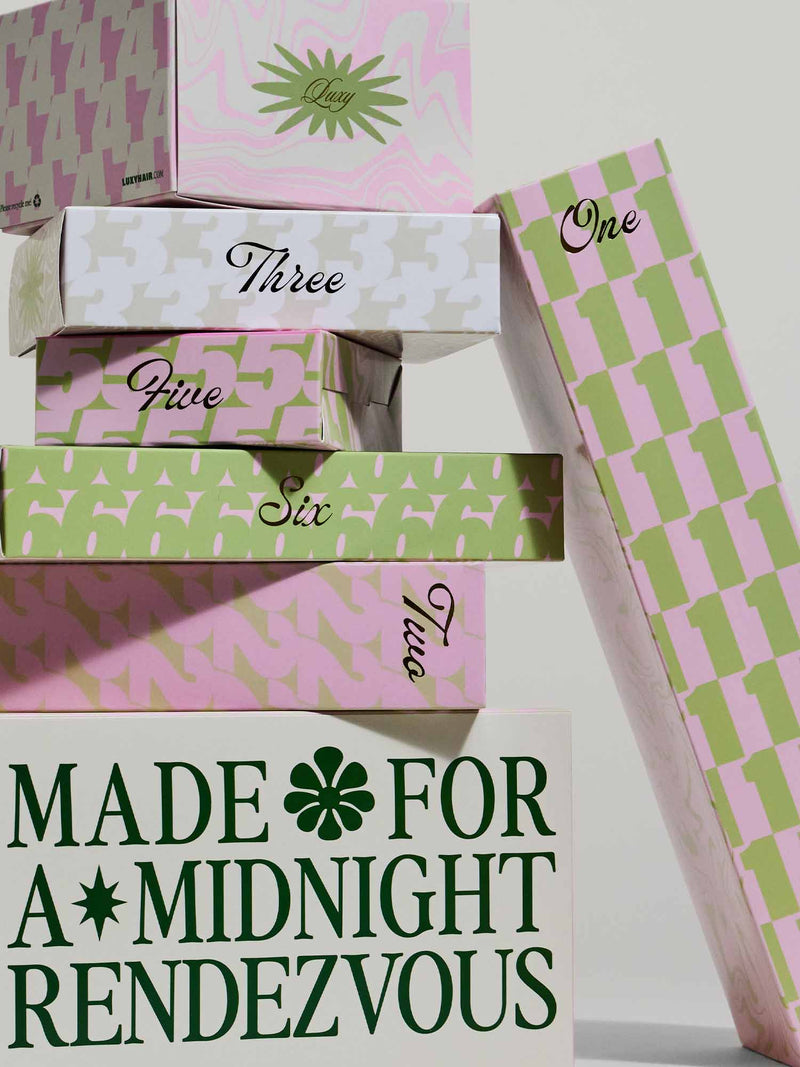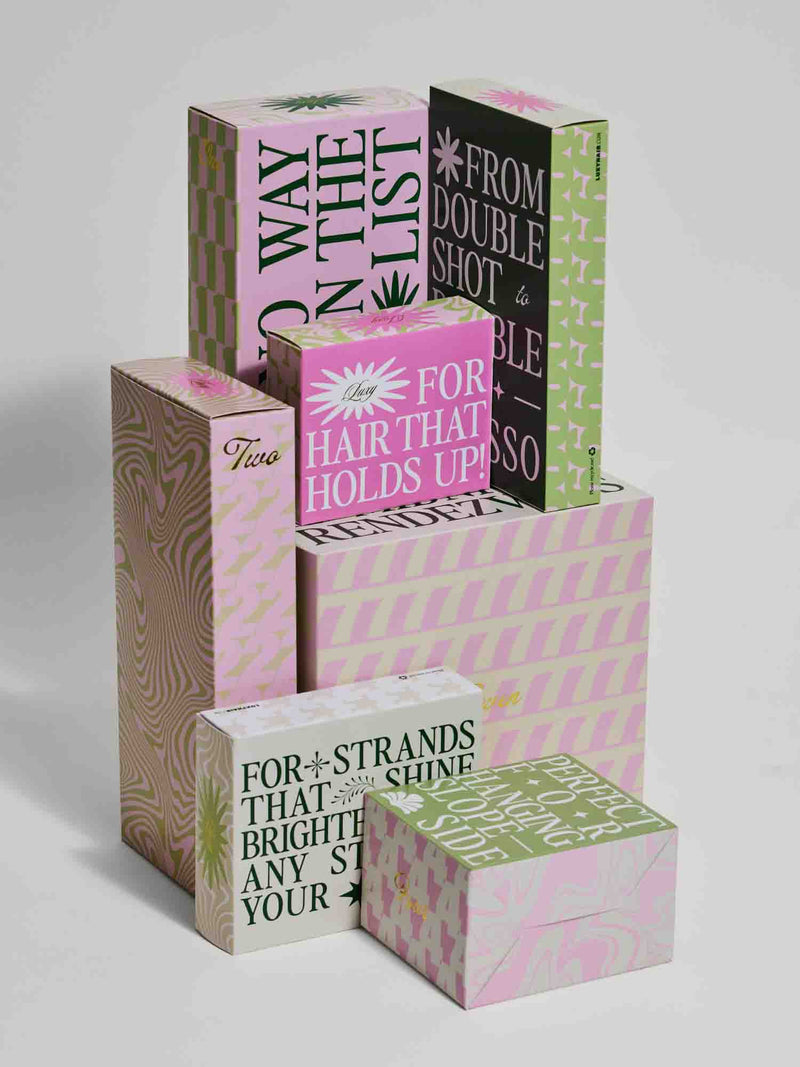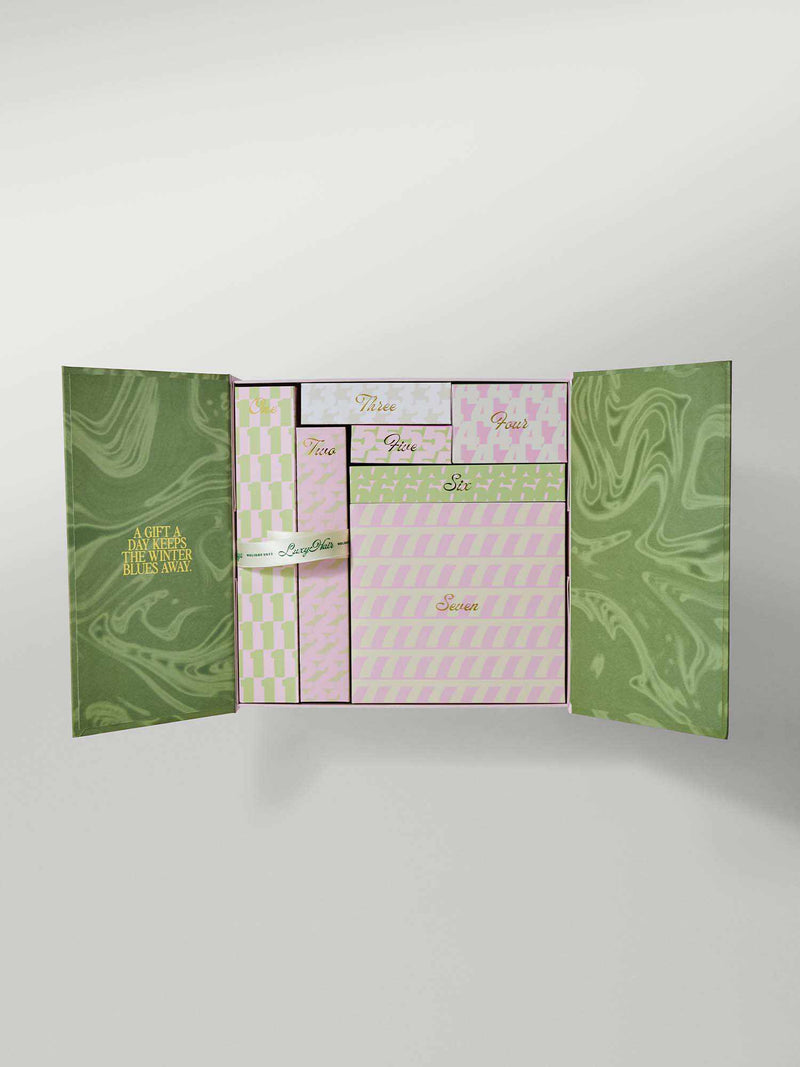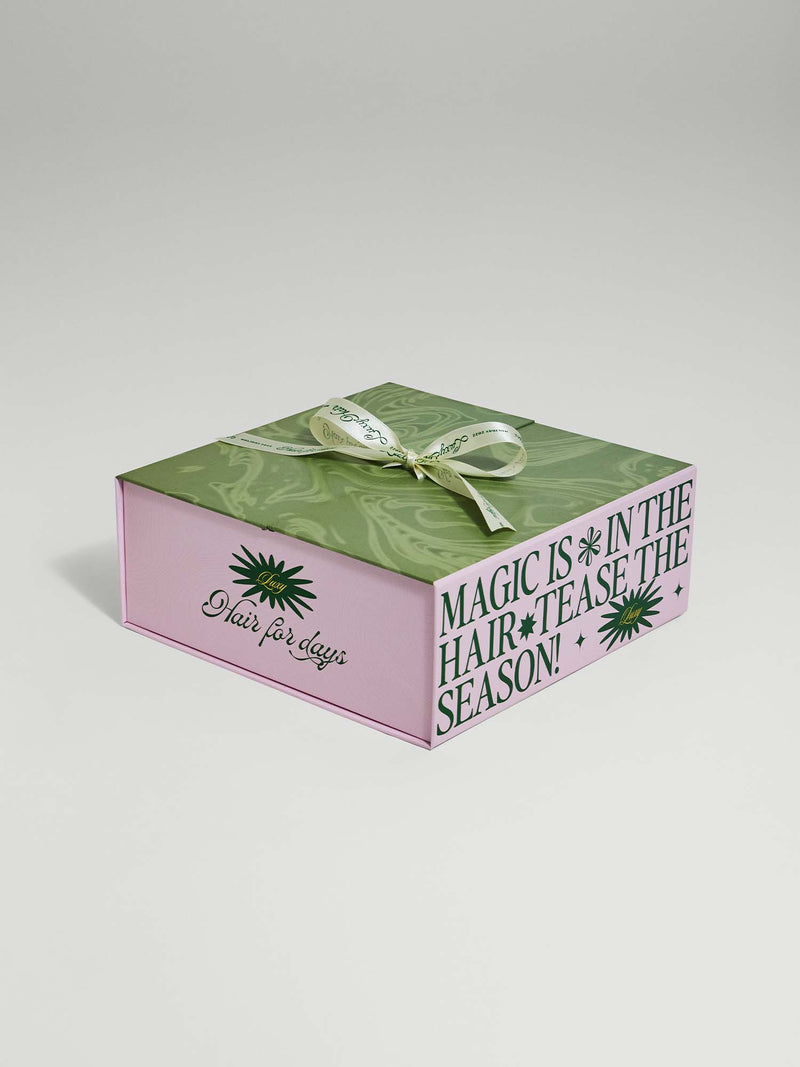 Reviews
More Than Just Pretty Hair
Ethically Sourced

All our hair is exchanged freely and fairly from verified distributors.

100% Recyclable

FSC certified packaging printed with soy ink, a renewable food source.

Cruelty-Free

We're animal lovers over here, which means zero testing on animals.

Biodegradable

We recycle old sets into oil-absorbing mats that clean waterways.

Sustainably Made

We believe in protecting the planet, including the people in it.
Hair for Holidays Advent Calendar
A gift a day keeps the winter blues away! The Hair for Holidays Advent Calendar features a curated selection of the following 7 full-size hair care products, tools, and accessories to help you style your hair for every holiday party and gathering.
Après-Ski Claw Clip

Dusk to Dawn Scrunchie Set

After Dark Ruched Satin Headband
Includes bestsellers and new holiday exclusive surprises. Comes in a special edition keepsake box that you can repurpose. All sales are final.
More Questions? Email us at [email protected]
For our FREE U.S shipping (4-8 business days), place your order by December 13th, to receive it by December 25th. Or, consider one of our express shipping options for last minute shopping! 

Free Shipping to Select Countries!
All U.S. orders include FREE standard shipping for orders $50+ USD

Canadian orders include FREE express shipping (2-5 business days) on orders over $250 USD. 

International orders pay a flat-rate $25 USD fee for express shipping (2-5 business days).
Products Lost or Damaged In Transit: All shipments are FOB (Free on Board), and ship from our warehouse located in Salt Lake City, Utah. We cannot guarantee the performance of our carriers. We encourage U.S. customers to opt-in for package insurance at checkout. We will assist our customers in any deficiency in third-party shipping services but we are not responsible for such deficiencies.
Processing Time
It will take 1 business day to process your order, regardless of the shipping option selected at checkout. We ship Monday through Friday, excluding weekends and holidays. We cannot guarantee Saturday delivery, even if your shipping is upgraded to express. You will receive a confirmation e-mail with the tracking link once your order ships which can take up to 48 hours to update. If you do not see your shipping confirmation email in your inbox, please double check your junk/spam or promotions folder. Standard & express shipping costs and any other third-party fees such as shipping insurance are non-refundable. We cannot be held accountable for any delays caused by the carrier.
Kindly note that if inaccurate or incomplete addresses are provided, or if there are unverified details with your order, it may delay processing by an additional 1-2 business days. We encourage all customers to thoroughly review their shipping and billing information prior to checking out to ensure any possible delays are avoided. 
Your package may or may not require a signature. Most packages are delivered to the mailbox or front door of the address provided, however, it is up to the delivery courier to decide if the package is safe being left in the open. If they deem it unsafe, they will hold the package at a local post office or re-schedule another delivery. Our best recommendation is to input a shipping address where you know you or someone else will be available to accept the package (a work address or a friend's address). 

USA State Sales Taxes
Please note that Luxy Hair charges state sales taxes on orders in the following states:
Wisconsin, Washington, Virginia, Utah, Texas, Pennsylvania, North Carolina, Nevada, Nebraska, Michigan, Maryland, Louisiana, Kentucky, Kansas, Indiana, Illinois, Georgia, Colorado, California, Arkansas, and New York.
These collected taxes are mandated by the local state governments and Luxy Hair in no way benefits from this and directly pays this amount collected to the state. We do ship to Military Mail addresses. 
International Duties and Taxes
Canada
Your order will be shipped DDP (Delivered Duty Paid) from our warehouse in Salt Lake City, Utah (United States) with DHL Express shipping (1-5 business days for delivery). This means that you will not be required to pay any additional duties upon delivery. 
At checkout, you will see taxes added to your order. This prepaid ahead of time will guarantee absolutely no additional charges when you receive your package. 
United Kingdom, Germany, Australia, France, UAE, Switzerland, Europe
Your order will be shipped DDP (Delivered Duty Paid) from our warehouse in Salt Lake City, Utah (United States) with DHL Express shipping (1-5 business days for delivery). The cost of the price is inclusive of all duties and taxes, which guarantees there will be no additional fees required at the time of delivery.
Other International
At checkout, you will have the option to prepay your duties and taxes. If you choose to not prepay, your order will be shipped  DDU (Delivered Duty Unpaid) from our warehouse in Salt Lake City, Utah (United States). Therefore, you may incur duties, fees and import taxes upon delivery. This charge is determined by your local customs authority and must be paid to your local carrier or government in order to receive your order. These fees are not collected by Luxy Hair. 
If you do prepay your duties and taxes at checkout (which is recommended by Luxy Hair to ensure a smooth delivery), your order will be shipped DDP (Delivered Duty Paid) which guarantees no additional charges at the time of delivery.
Wrong Address Disclaimer
It is the responsibility of the buyer to make sure that she or he enters the shipping address correctly. We do our best to speed up processing and shipping times, hence there is a very small time gap to cancel/change your order or to change the address of your order. If you decide to cancel your order or change your shipping address, please write to us at [email protected] as soon as you place your order. We will do our best to make the change, however, we cannot guarantee that we will be able to do so, as there are varying time limits in which we are able to do so.
If it's too late for our team to cancel your order, you can return your order to us once you've received it. For more information on how to return your order click here. The only thing we can do is wait to see if the package gets returned back to us. If it does get returned back to our warehouse, we can then ship it to the correct address or provide you with a full refund.
Extra Shipping Charges: If you upgraded your shipping and the package was returned to us due to an incorrect address and if you would like a refund, you will not be reimbursed for the upgraded shipping fees.
Delivered but Not Delivered
All of our shipments include tracking with delivery confirmation. If the tracking information confirms that the item has been delivered to your order address but you have not received your order, please read this article for next steps on how to locate your package. Also, please contact couriers at numbers in order to investigate this issue.
We cannot be held accountable for packages where tracking information states the package has been delivered to your order address.  We encourage U.S. customers to opt-in for package insurance at checkout. If you have previously experienced lost or stolen packages where you reside, we encourage you to instead have your package delivered to a work address to ensure that you receive it safe and sound.
Returns
By placing an order at Luxy Hair, you are responsible for the cost of return shipping back to Luxy Hair. Please refer to our return policy for further information on how to return your packages.
You may return your order for a full refund or exchange it within 60 days of purchase, as long as the main compartment is still sealed. 
*Accessories and Hair Care products are final sale. Last Chance items are exchange or store credit only. 

¹Luxy Hair is NOT able to ship to the following countries due to shipping complications: American Samoa, Costa Rica, Cuba, Egypt, Eritrea, French Southern Territories, Italy, Kuwait, Spain, Guam, Iraq, Libya, Panama, Russia, San Marino, Sudan, Tajikistan, Ukraine.